The Truman Capote Talk Show:.
Written & Performed by Bob Kingdom


___Edinburgh Fringe First winner__
"A terrific script, tight, funny, poignant, and bursting with celebrated one-liners. Go straight to this show." (The Guardian)
"Mr Kingdom is at once paying homage and lamenting loss – the occasion is a tour-de-force." (New York Times)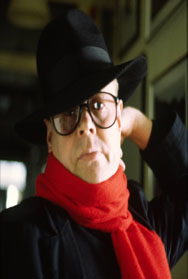 There are four stages to American celebrity. The first and last are both "Who is Truman Capote?"...
Bob Kingdom returns to the Assembly Rooms with his Fringe First winning show about Truman Capote. On the 20th anniversary of his death he brilliantly captures this social butterfly, gossip-monger and troubled novelist – bringing him back from the dead in this scintillating solo show. Never lapsing into biography or lecture, this piece brings the later middle of the twentieth century into sharp focus through Capote's sparkling, but often bloodshot, eyes.
Elvis, Camus, Robert Frost, Marilyn, Thurber, Gore Vidal, Jean-Paul Sartre; all bit players in the glittering world Truman Capote made his own, dropping names until those names dropped him. The slightly seedy glamour of Breakfast at Tiffany's, the feted success of In Cold Blood, and the intelligence of its author shine through the script, bringing out the tragedy threaded through Capote's scalpel humour.
Capturing the man and his times, despite the Capote estate forbidding any direct quotation, is no easy task, but Kingdom succeeds effortlessly. His performance is scarily accurate; the wardrobe, the mannerisms, the camp, acerbic humour is precise. But this is so much more than imperson-ation, bringing a man who faded from view, from the fame he craved, as the world lost interest, back into the spotlight he deserved - or at least needed.
"By re-creating the style, elegance and poetic tragedy of Truman Capote, Mr Kingdom, in one of the crowning achievements of the acting profession, has created new poetry of his own." (New York Observer)